It was only a 1-1/2 hour drive from Sirogojna to a small village referred to as "Mokra Gora," one of the most unusual, built-for-tourism towns I've ever seen. Mokra Gora means "Wet Mountain" in English and is located on the northern slopes of Zlatibor. The proper name of this unique place is Drvengrad meaning "Wooden Town" but if you aren't confused enough, Drvengrad is also called Kustendorf or Mecavnik. A rose by any other name…
Mecavnik is a neighboring village while Kustendorf is a combination of Kusturica's nickname, "Kusta" and the German word for village, "dorf."  Whatever you choose to call it, the popular Serbian filmmaker Emir Kusturica built this wooden village to use in his movie, Life is a Miracle. He also established the Kustendorf Film Festival held annually in January to showcase films and music from all around the world.
Vans parked and pulling suitcases, the group walked through gates, onto Ivo Andric Street (1961 winner of the Nobel Prize in Literature) and jaws flapped open. A wooden statue of man picking his nose…
…bride and groom cutouts for visitors to poke heads through…
…A small church at the end of the street dedicated to St. Sava, old cars parked along the street, and even a life-sized statue of Johnny Depp.
The streets in "Mokra Gora" are named after individuals Kusturica held in high esteem or found personally significant. Frederico Fellini Street, Ingmar Bergman Street, Diego Maradona Street, even Che Guevara Street. You get the drift. There's nothing to actually do in Mokra Gora but walk around, take photographs of bizarre sculptures and eat. Choose from between a traditional Serbian restaurant, Italian, coffee and cake shop.
I'm not sure if Cinema Stanley Kubrick was actually showing movies or not during our stay.
An optional Sargan Eight narrow gauge railway excursion had been scheduled for this afternoon.  The original line ran between Sarajevo and Belgrade until closed in 1974.  A small section was renovated by the Serbian government between Mokra Gora town to Sargan Vitasi. The name "Sargan Eight" comes from the unusual figure eight loop the train completes.  Traveling only a few kilometers, the tourist ride takes several hours.
Sinisa report that this train that everyone in the group but us wanted to take, wasn't running today. That meant we had to spend tomorrow morning in Mokra Gora so the group could take the train. More instances of today's tour thrown into tomorrow which really blew the day. The blasted train wouldn't depart until 1:30p, take several hours, we'd then stop at the Bridge over Drina, cross the Bosnia-Herzegovina border and arrive in Sarajevo (a major highlight of this tour) very late. Pissed, pissed, pissed, and ready to take my own flatiron to someone's head…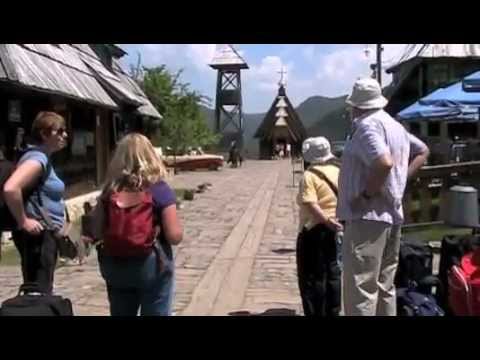 What we wouldn't have given to carry on and have extra time in Sarajevo, a real jewel…